About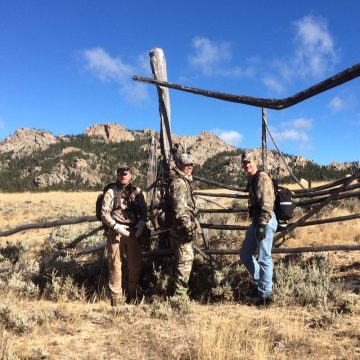 Box Creek Outfitters (#DA-029) runs antelope and deer hunts out of Douglas Wyoming. Hunters can stay at several different motels with prices for every budget and will be transported by your guide to and from the hunting properties.
Archery Antelope hunts: We begin hunting the August 20 – Aug 30. Blinds are set up before hunters arrive on location. The guide will check on the hunter throughout the day. We will provide you with a sack lunch and plenty of water. (Please review our equipment list).
Archery Antelope hunts are 5 day for  $2300
Rifle deer hunts run between the October 01 – October 14 for area 22.  The hunts will be spot and stalk.
These hunts are four (4) day hunts. $4300 Trophy Mule Deer $2400 Management Mule Deer. You can also add a Buck Antelope hunt for $1300.
Rifle antelope.. These are typically a 2×1 guide to hunter ratio hunt. Ask us about 1×1 and larger groups. The rifle Antelope are (3) day hunts and are all spot and stalk with 4 wheel drive access. This season runs from September 24 – October 30 for areas 11-1, 26-1, 29-2.
Rifle only antelope hunts are three (3) days. $2400
I ask all hunters to arrive by 3:00 – 5:00 pm the day before their hunt begins, as hunters arrive we check them in and sign their licenses, your guide will go over the hunt if you have any questions, equipment and safety policy. After unpacking, As time allows hunters can shoot their firearms at the rifle range.
We always leave each morning with the intent of being gone all day. The weather and harvesting of animals sometimes dictates how long you stay in the field. No hunter is allowed to hunt without a guide nor consume any alcohol while hunting. The guide will have a cooler with cold meats, cheese, bread and snack food items for the hunters to make their lunches.
With the exception of archery Antelope, your normal day will start out glassing from the guides pickup. Once we locate the animal you want to hunt we will go on foot. The guide will make sure you do not leave the vehicle without taking food and water with you (we have cases of bottled water on hand at all times). I ask all hunters to bring a small day pack. Some hunters prefer to walk all day and others prefer to stay closer to the vehicles. Again, this is the hunter's choice.
When an animal is harvested we will recover your animal and get it back to town to the local processor. All capes and horns can be removed by the processor and frozen for you to pick up. If you want we can arrange for a taxidermist to pick your trophy up for mounting.  Identification will be placed on both the cape and antlers as to whom they belong. The hunter pays for the processing.
We offer free pickup and delivery to and from the Casper, Wyoming airport. Hunters need to be checked in to the motel the afternoon before. The hunter(s)  will meet their guide(s) to check them in, sign their licenses, review safety policy and complete any paperwork.