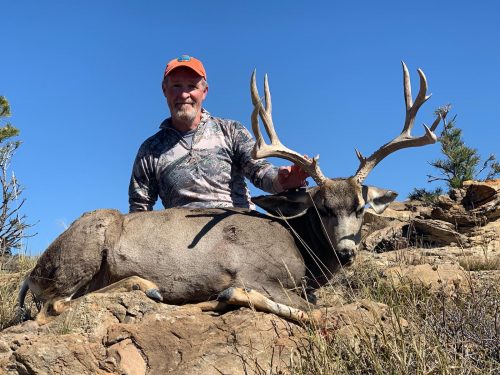 Rifle Deer Hunt
Rifle Deer hunts start Oct. 1st and season ends Oct. 15th. These are 2×1 guide to hunter ratio (ask us about 1×1 guided hunts $500 upcharge). The hunts will be Spot and stalk, with 4 wheel drive pickup access. We start early and will be glassing late into the morning. We bring a sack lunch for you to eat and time for a nap mid day. With more glassing in the afternoon. This country is rolling hills covered in sage, Cedar ridges, cottonwood stands in the creek bottoms. Bring a spotting scope if you have one and a good pair of binoculars. Elevation is around 4600′ – 4800′ and the terrain is easy to hike by Wyoming standards.

See our equipment list for details on what to bring.
Rifle should be a gun that you are comfortable shooting out to 400-450 yards.
$4300 Trophy Mule Deer outside of the ears, 4×4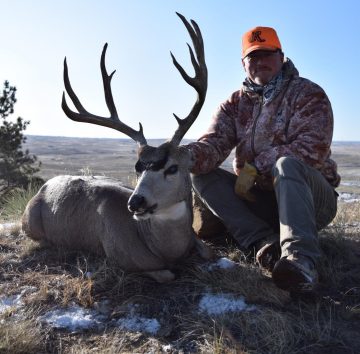 $2400 Management Mule Deer 3.5+ yr, mature buck with 1×3, 2×3, or 3×3. Your guide will show you what is available on the property.
Deer – Full Price: Jan. 3rd – May 31st
Hunt Area 22
Area: 22
Type: 1*
Open Date: Oct. 1st
Apply For: 022-1
Limitations: Antlered mule deer
Deer: $389.00
Youth Deer: $110.00
Application Fee: $15.00
Special Deer: $677.00
Preference Point Only: $40 Jul. 3rd – Oct. 31st
Preference Point Only Youth: $10 Jul. 3rd – Oct. 31st