Why Wyoming for a Guided Mule Deer Hunt

When it comes to western hunting, few things are more iconic than a big mule deer buck in the sagebrush. These spot-and-stalk hunts are a game of chess on an enormous scale. It's easy to see why mule deer hunting remains so popular.
Here in Wyoming, we're fortunate to enjoy some of the best mule deer hunting anywhere on earth. Mule deer hunting in Wyoming is special. Here are a few reasons why:
Variety of Opportunities
From the peaks of the Rockies, to the Red Desert, to the high plains and sagebrush steppe, Wyoming is hope to an incredible diversity of mule deer country.
The areas we hunt are near Douglas, on the eastern side of Wyoming. These are primarily sagebrush and high plains habitats, cut with stands of ponderosa and juniper-covered ridges and canyons. It's classic western mule deer country.
Here, our deer aren't as vulnerable to winterkill as many high-elevation herds. We enjoy both migratory deer that show up when the weather turns cold, as well as resident herds deer that live here year-round. As we mentioned in our recent article about winter conditions and 2020 license numbers, our deer herd here is healthy and growing.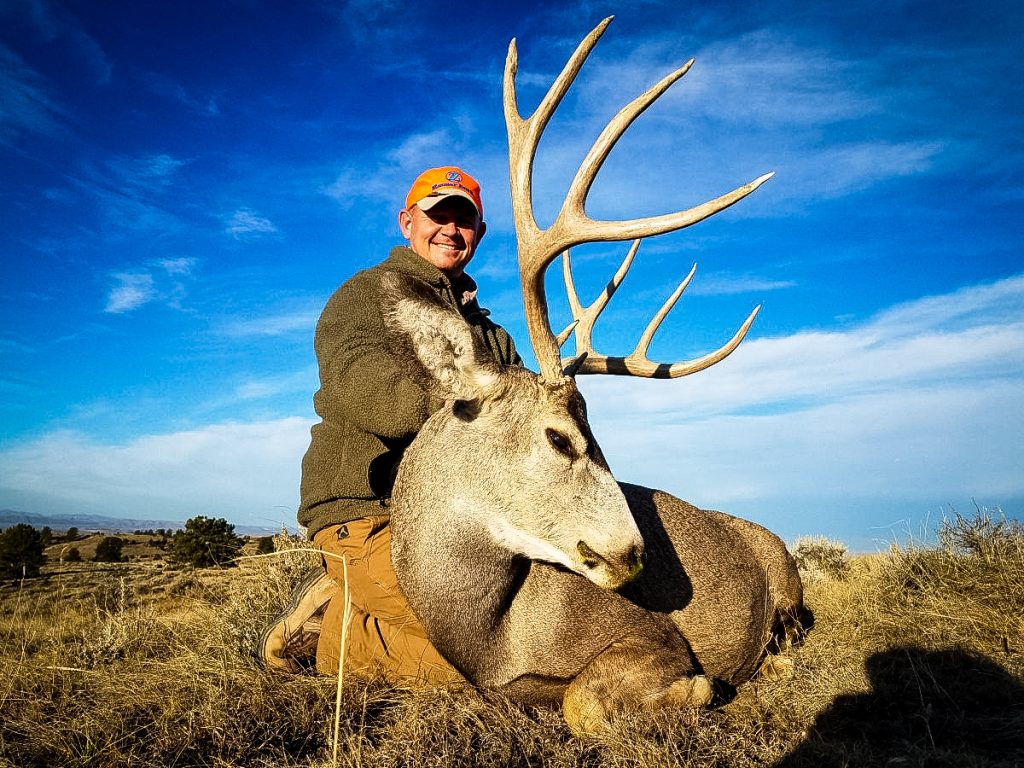 High Quality Hunts
The Wyoming Game and Fish Department does a great job of managing mule deer hunting throughout the state, offering high quality opportunities. It might take a year or two to draw your mule deer license. But it's well worth the wait. You can be sure you'll have a very high quality hunting experience!
What's more, we operate our hunts on beautiful ranches in east-central Wyoming. These sprawling western landscapes are home to great mule deer habitat. We have exclusive access to these ranches – meaning you won't have to deal with public hunting pressure.
When you combine the quality wildlife management from the state agency, plus the careful ranch management that we employ on these private properties, you get a mule deer hunting experience that's difficult to find anywhere else.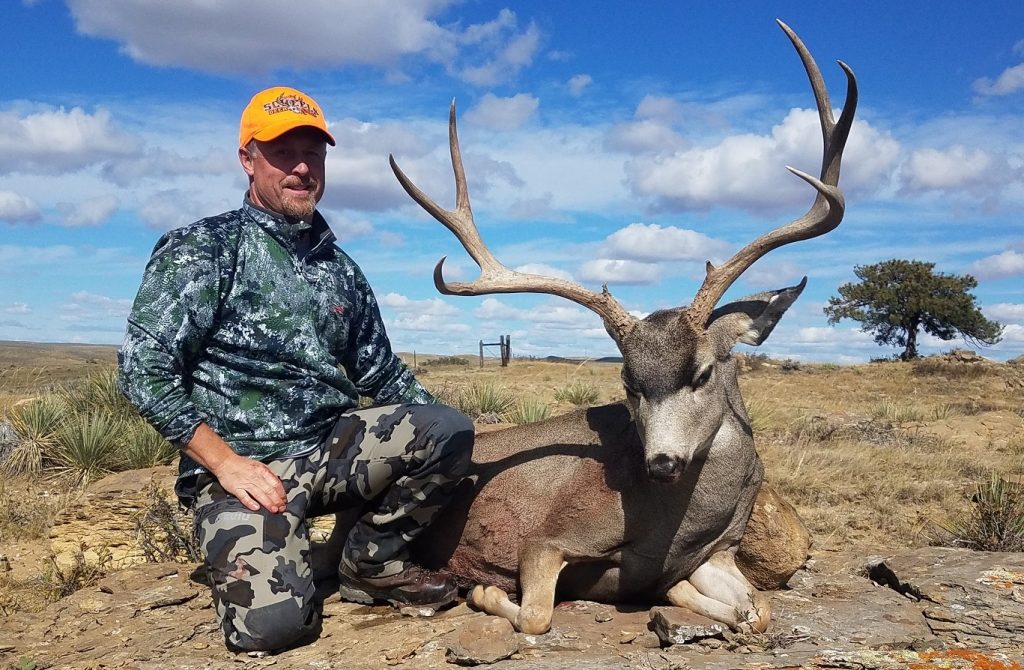 Antelope Combo Hunts
One thing we love about deer hunts in this part of Wyoming is the ability to plan a mule deer and antelope combo hunt. Together, these two species make for an extremely fun hunting experience.
On these hunts, we will often spend the early morning hours glassing for mule deer and if given the opportunity, making a stalk. Then, the afternoon hours are perfect for chasing antelope. If you missed our recent article about antelope, you might be surprised to learn that unlike deer, antelope are most active during the daylight hours. In the late afternoon, we will go back to glassing for mule deer until dark.
In terms of the number of animals you'll see and the consistent action throughout the day, there's nothing that quite compares to a mule deer and antelope hunt. We truly believe this is some of the most fun to be had on any western hunt!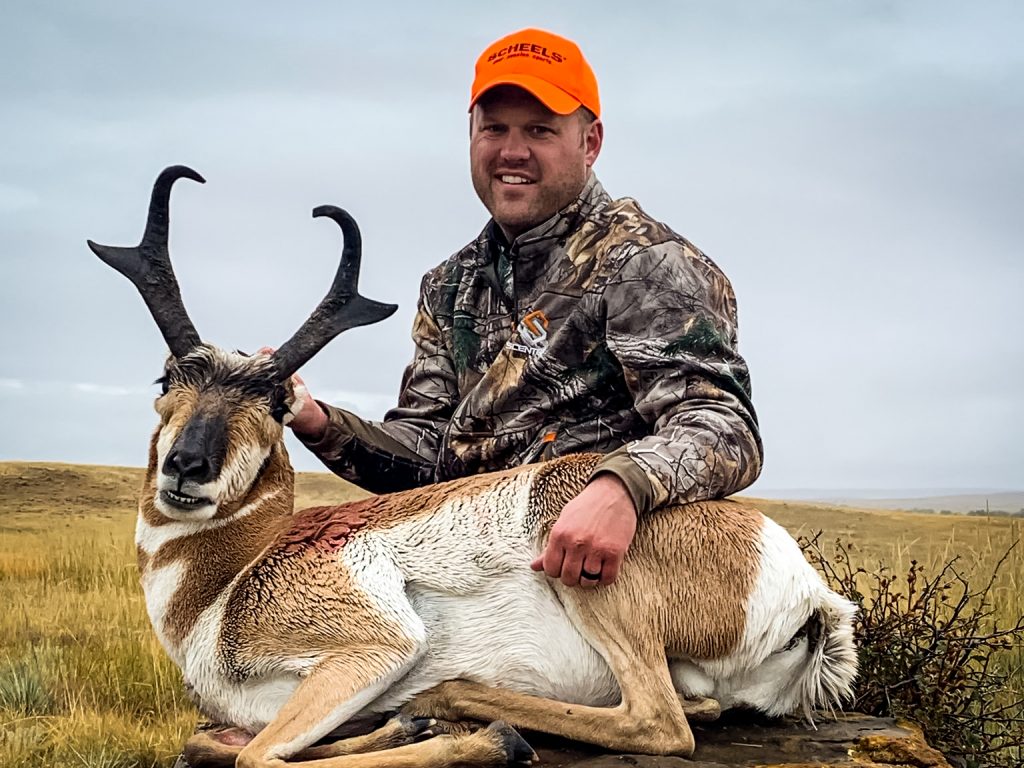 The Wyoming Application Deadline is June 1st
If you'd like to experience a Wyoming hunting adventure in 2020, you must apply for your license before June 1st! The deadline is approaching quickly and we'd love to help you plan your hunt. For details, give us a call at (307) 359-1848. You can also send us a message.
If you'd like to read more about applying and our available guided hunts here at Box Creek Outfitters, please go take a look at our recent blog post about the application deadline.
Again, feel free to call us anytime (307) 359-1848 or send us a message. We look forward to seeing you out here this fall!