Wyoming Deer and Antelope Application Deadline is May 31st

The application deadline for Wyoming deer and antelope licenses is May 31st. The fall hunting seasons might seem distant. But it's time to begin planning your Wyoming hunt!
If you have questions about the application process, don't hesitate to send us a message or call us at 307-359-1848.
Here are a few things you should know about our archery and rifle hunts…
Archery Antelope Hunts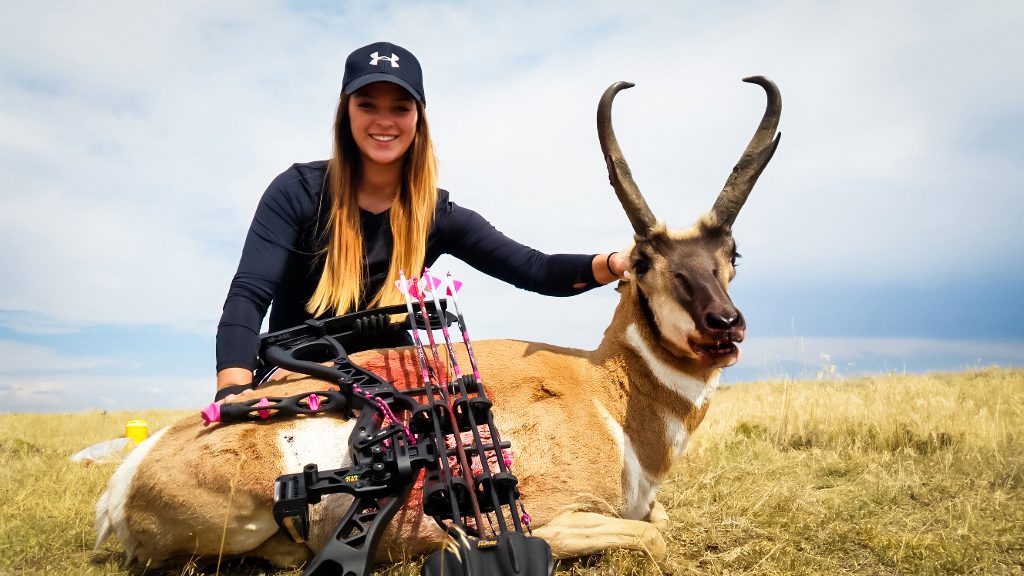 At Box Creek Outfitters, our hunting season begins in mid-August with the archery antelope hunts. Antelope are known for their incredible eyesight, and taking a pronghorn with a bow is a great accomplishment.
By far the most effective way to hunt antelope with a bow is from a ground blind. Blinds are set up and ready to go before our hunters arrive. These blinds are placed at strategic locations near water. During the hot days of late August and early September, we can reliably intercept bucks as they come to water during the day.
Unlike deer, which tend to be most active early and late in the day, antelope are active throughout the daylight hours. Most deer hunters are used to getting started before daylight. But with antelope, that's rarely necessary. We can expect to see antelope showing up at these watering locations from mid-morning through the late afternoon.
To learn more about these hunts, including pricing and other details, please take a look at our archery antelope page. If you have questions about availability or any other details, please don't hesitate to contact us or give us a call at 307-359-1848.
Rifle Antelope Hunts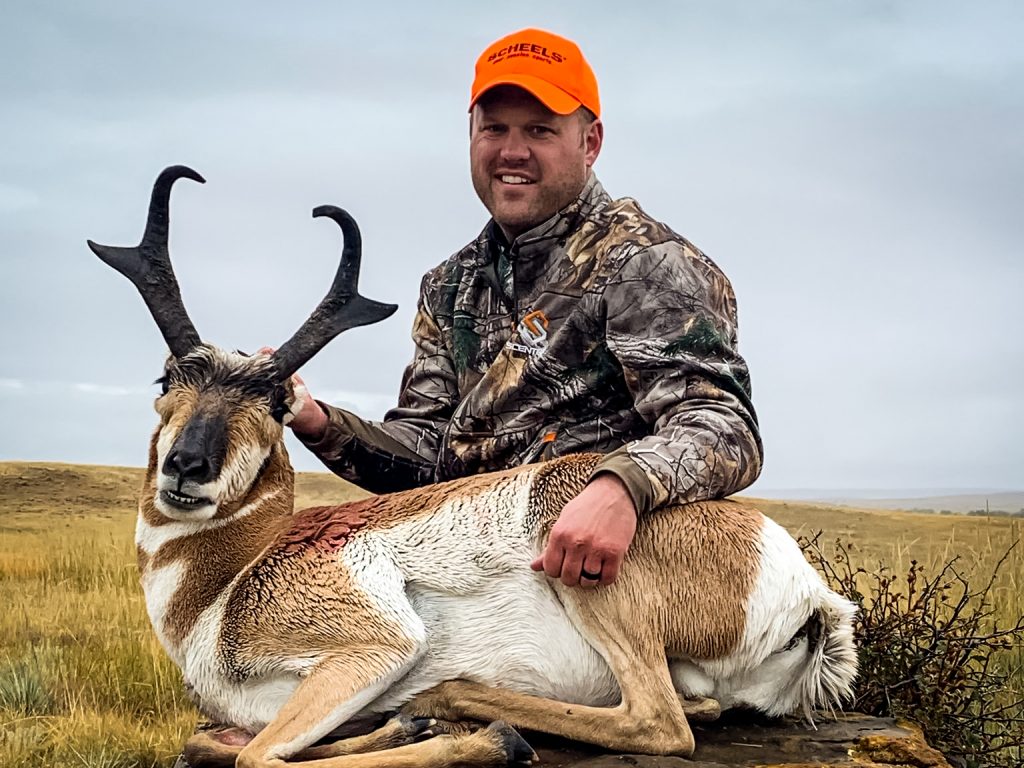 After the archery hunts wrap up, our next adventure is rifle antelope hunting. Pronghorn are arguably one of the most beautiful big game species in North America, and pursuing them across these wide-open Wyoming landscapes is something truly special.
Rifle antelope hunts begin in late September and run through mid-October. These dates are timed with the antelope rut. It's an exciting time of year to watch the bucks compete and chase does.
Our rifle antelope hunts are spot-and-stalk adventures. We use 4-wheel drive pickups for access. Bring quality binoculars and a spotting scope if you have one. Due to the open nature of this terrain, we'll be able to spot good numbers of antelope while looking for a mature buck. Once we spot a quality antelope buck, you can expect to begin the stalk on foot.
If you'd like to read more about these hunting opportunities, please visit our rifle antelope page. You can also give us a call at 307-359-1848 or send us a message with any questions.
Wyoming Mule Deer Hunts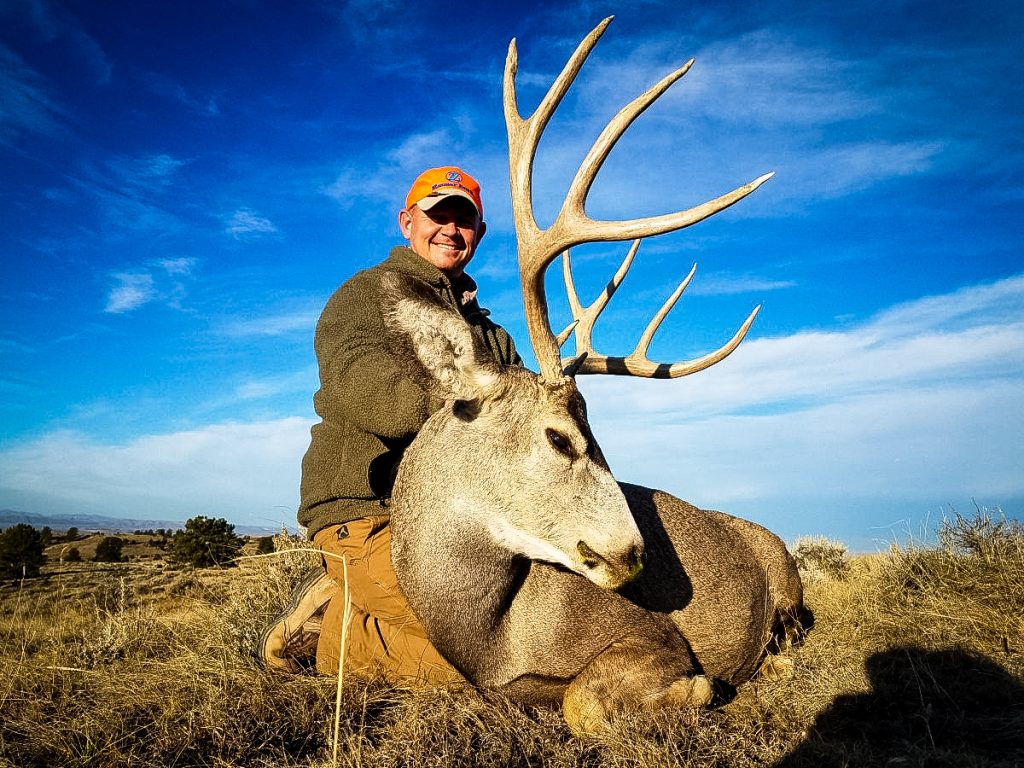 There may be no more classic western experience than a spot-and-stalk Wyoming mule deer hunt. Glassing for mule deer and stalking them across this windswept landscape is something every hunter should experience.
Rifle antelope hunts begin October 1st and run through the middle of the month. We hunt classic Wyoming deer country – sagebrush hills, riparian river bottoms, and juniper-studded coulees. Like our antelope hunts, we access the terrain using 4-wheel drive pickups. We will begin glassing early in the morning. We'll eat lunch in the field and continue glassing in the afternoon. You'll want a quality set of binoculars on this hunt and a spotting scope if possible.
The weather in early October is highly variable. Hunters should be prepared for warm temperatures and sunshine, to wind and snow, and everything in between. But no matter the conditions, we know these landscapes and how the deer use them. Our guides will show you how we adapt to weather and other factors to locate these mature mule deer bucks.
For pricing and other information, please check out our mule deer hunting page. If you have specific questions or if you'd like to inquire about availability, give us a call at 307-359-1848 or contact us online.
The Wyoming Deer and Antelope Application Deadline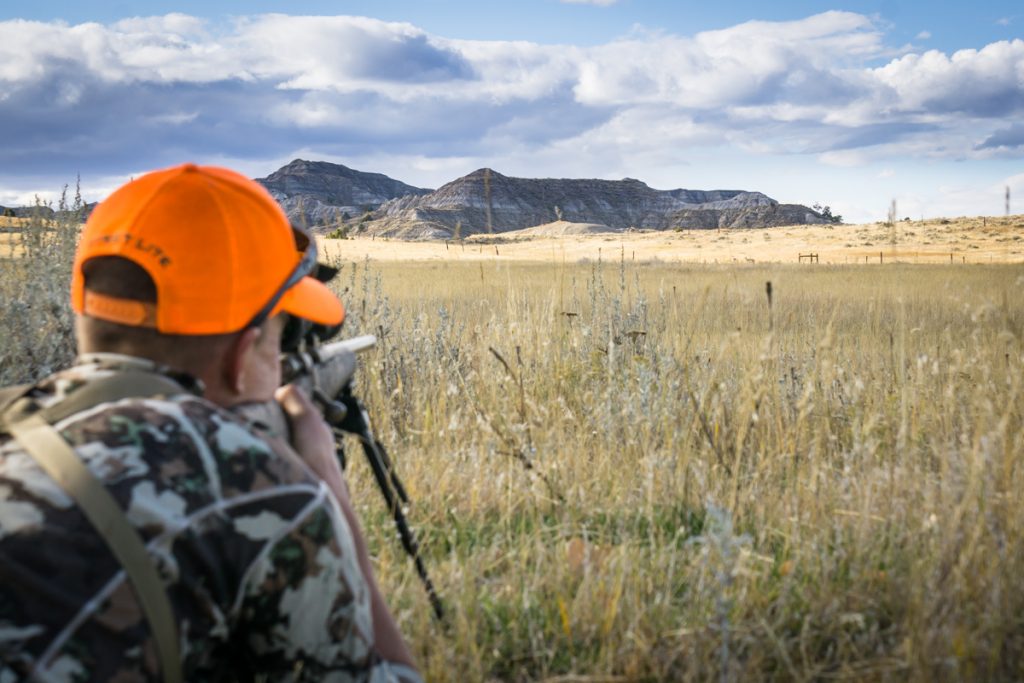 Anyone who wishes to hunt Wyoming in 2020 must apply for licenses by May 31st. To get started, please give us a call now at 307-359-1848.
Licenses for our antelope units can be very easy to draw, even without preference points.
Licenses for our mule deer hunts can also be drawn with no preference point, but having a couple of points going into the draw will help secure that tag.
If you're feeling unsure about preference points or the application process, don't worry! We're here to help. Send us a message or simply give us a call at 307-359-1848. We'd love to help you plan a great Wyoming hunt!